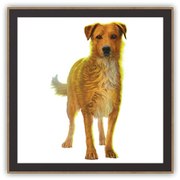 "I like being on my own. I mean, I'm sure a Pack's best for some dogs, but I've walked alone since I left my Pup Pack. I can look after myself."
—Lucky
Spoiler warning!
This article contains spoilers to one of the Survivors Books.
Appearance
Edit
Lucky is a handsome thick-furred long-legged golden-and-white sheltie-retriever with dark eyes.
Personality
Edit
Lucky is a troubled young dog. He is streetwise, intelligent,and above all, cautious. He enjoyed being a Lone Dog as he thought that in a pack, he would have to care for other members and worry about them—this why he does not like to get too close to others. However, he does have an honorable heart and is kind, although vicious when needed to be.
Special skills
Edit
Lucky is a good hunter; he teaches the pack to hunt when they move to the forest.
Lucky is shown in the prologue as a young pup, warm and content that he is surrounded by his littermates, Yip, Yowl, and Squeak, who later appears as Bella. His pup name is Yap. His mother tells the story of the Earth-Dog and Lightning, who was rescued from the Earth-Dog by the Sky Dogs.
Lucky is shown at the beginning of the story as a Lone Dog, recently captured by longpaws. He escapes when The Big Growl strikes, busting open his cage with the help of Sweet. He fails to persuade Sweet into roaming the city with him for food and she leaves to find her pack. Lucky becomes very hungry later on and scavanges for food, even going to a longpaw firebox to get it. He is chased away by a Fierce Dog and escapes by jumping a small gorge.
More Coming Soon
 More Coming Soon
All information from here or The Empty City.